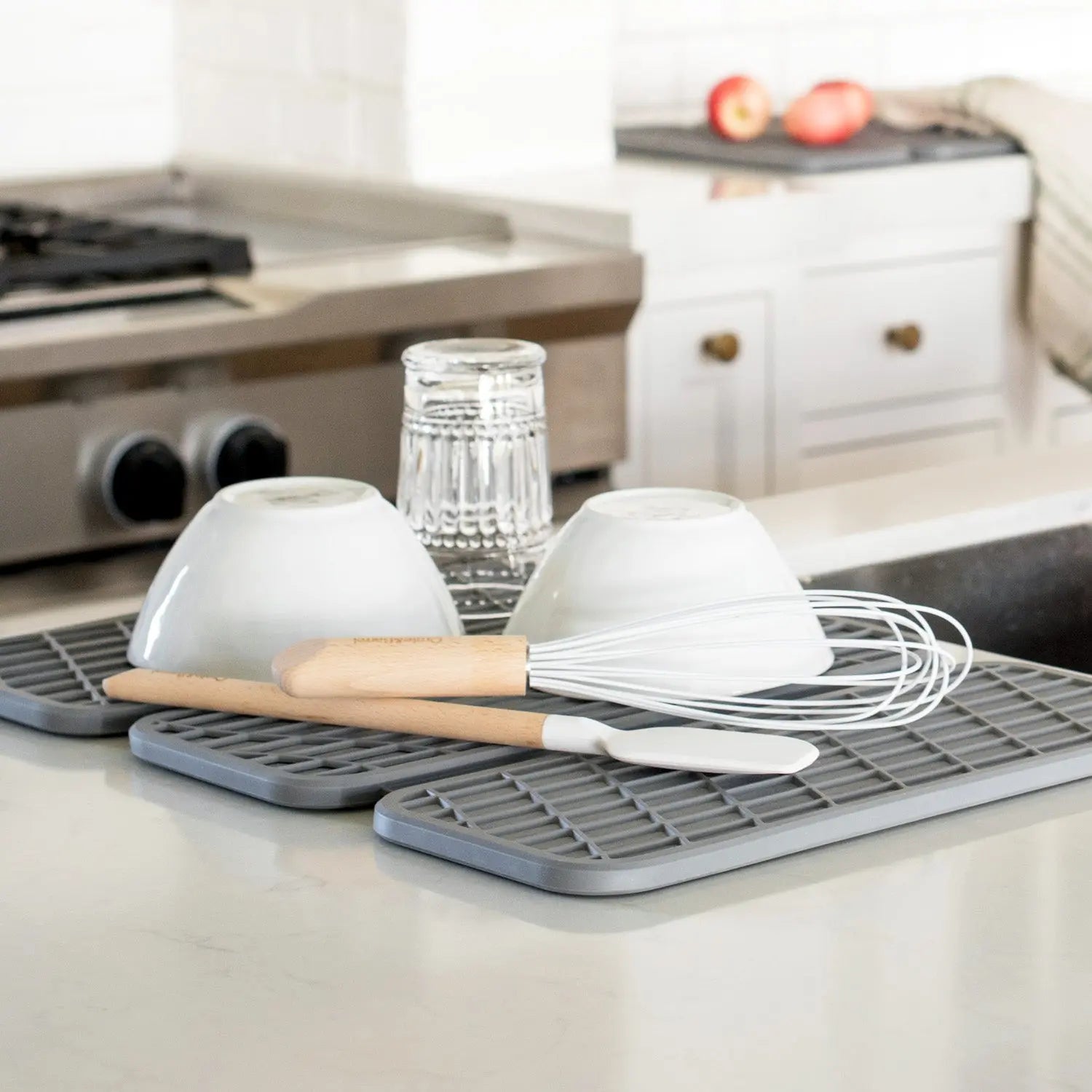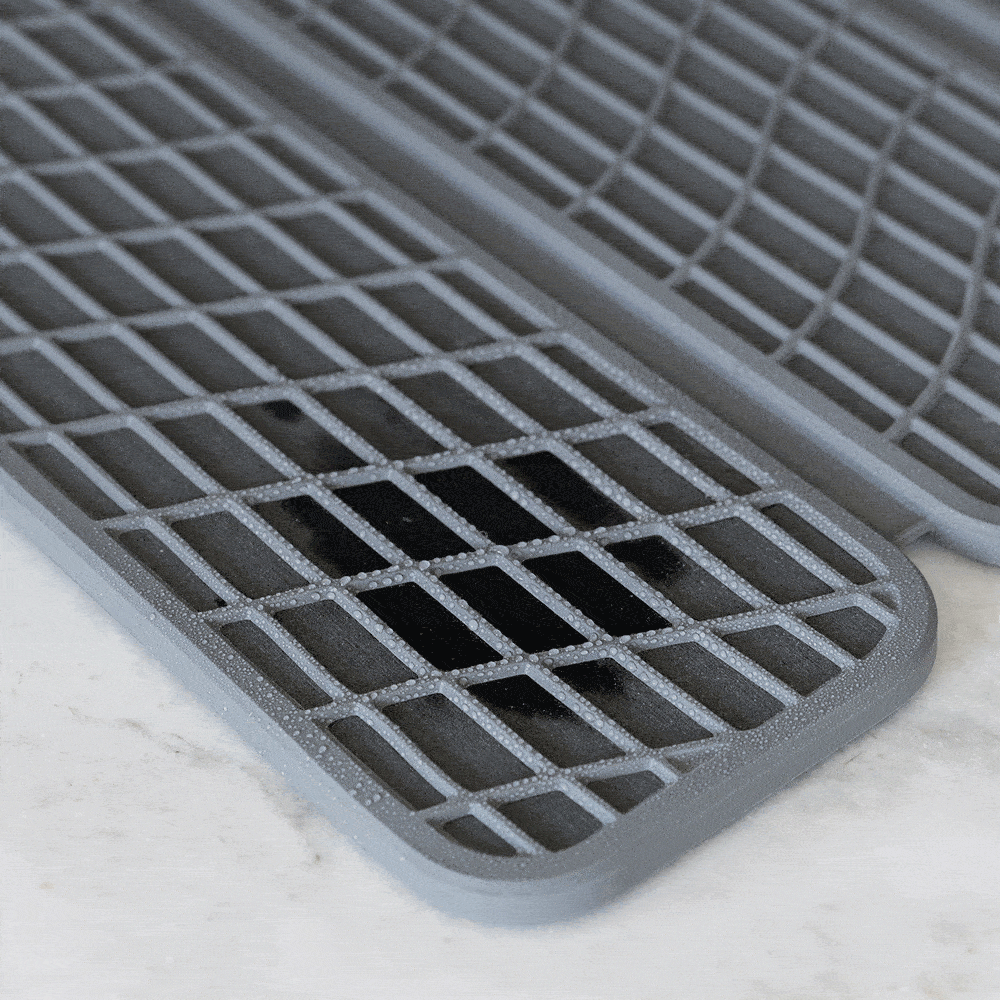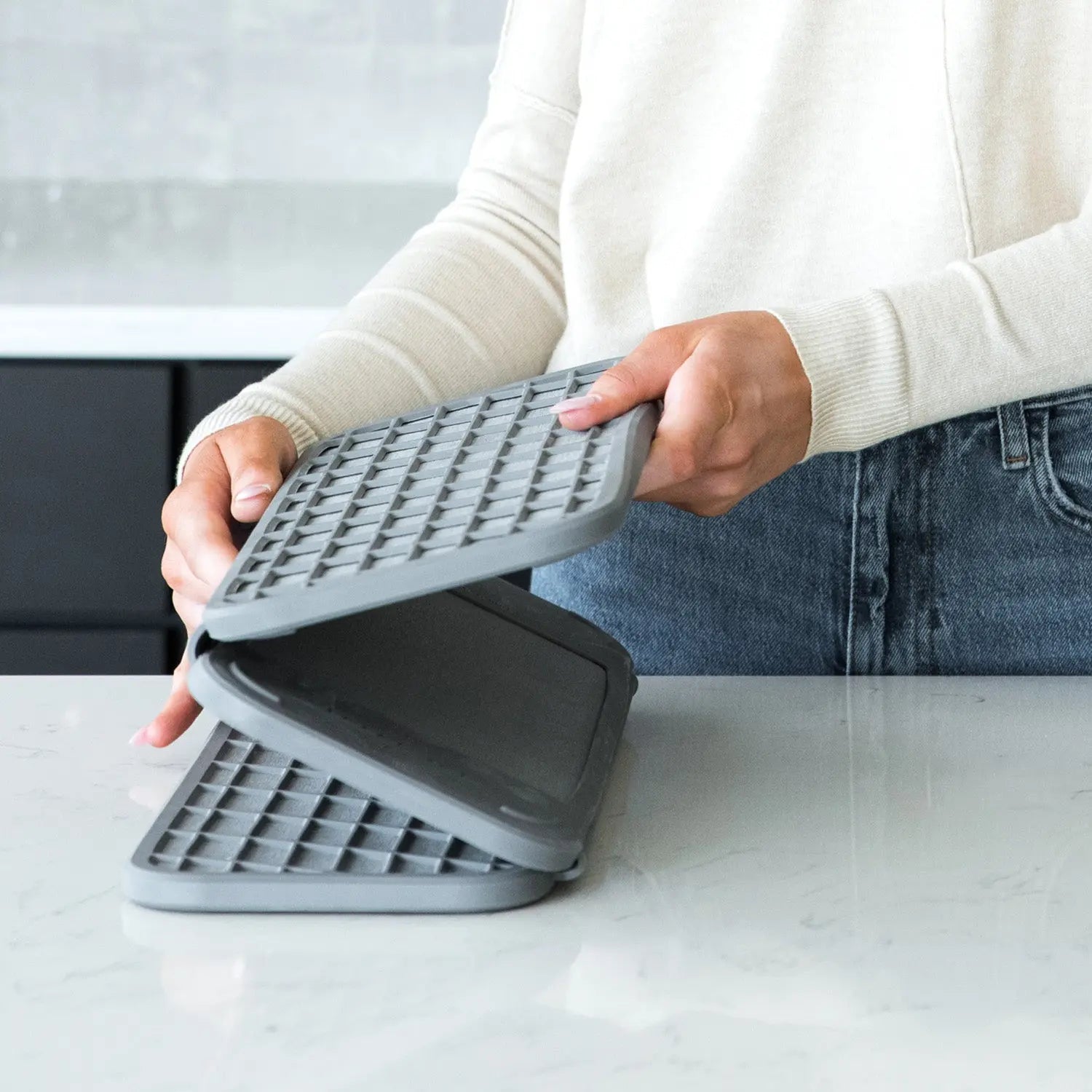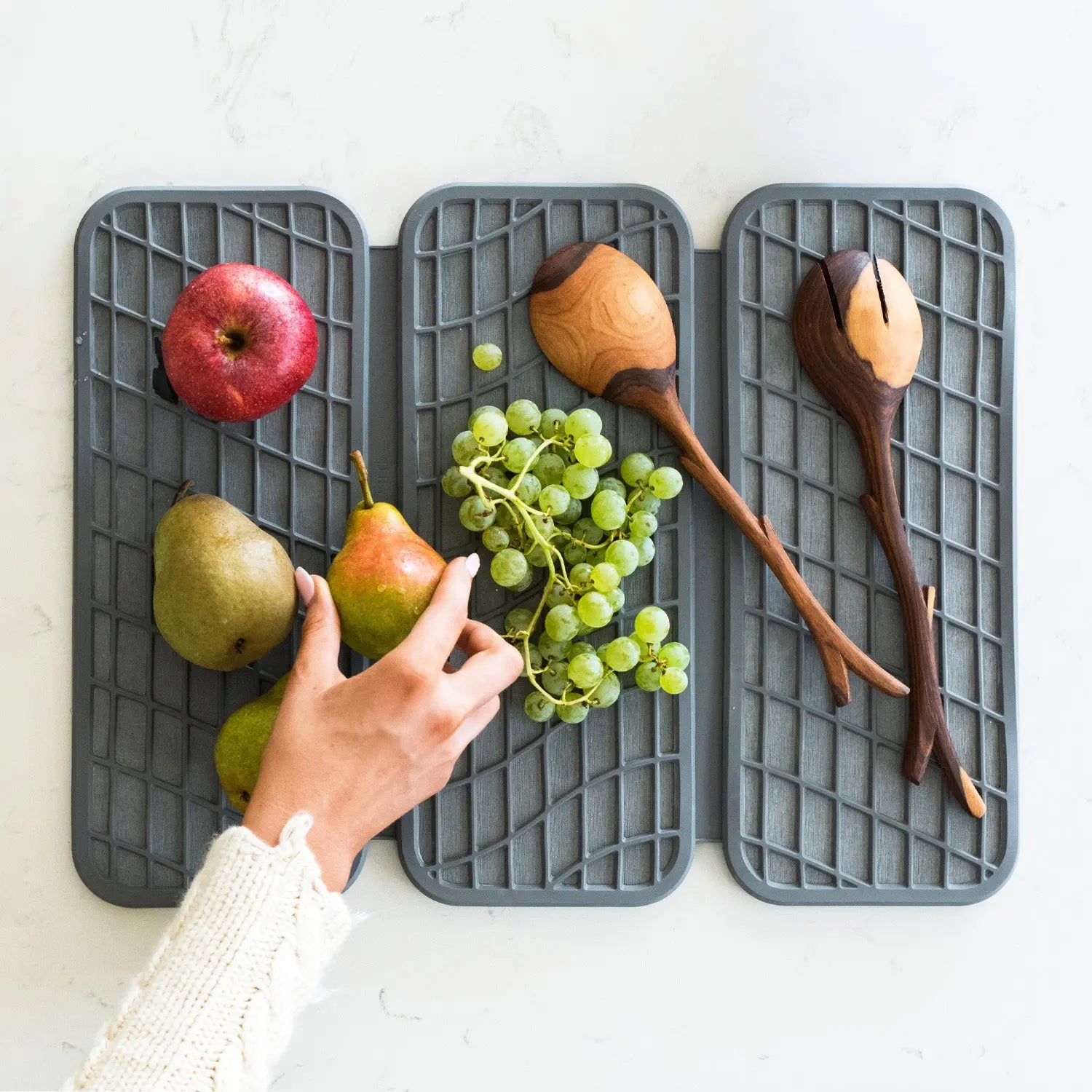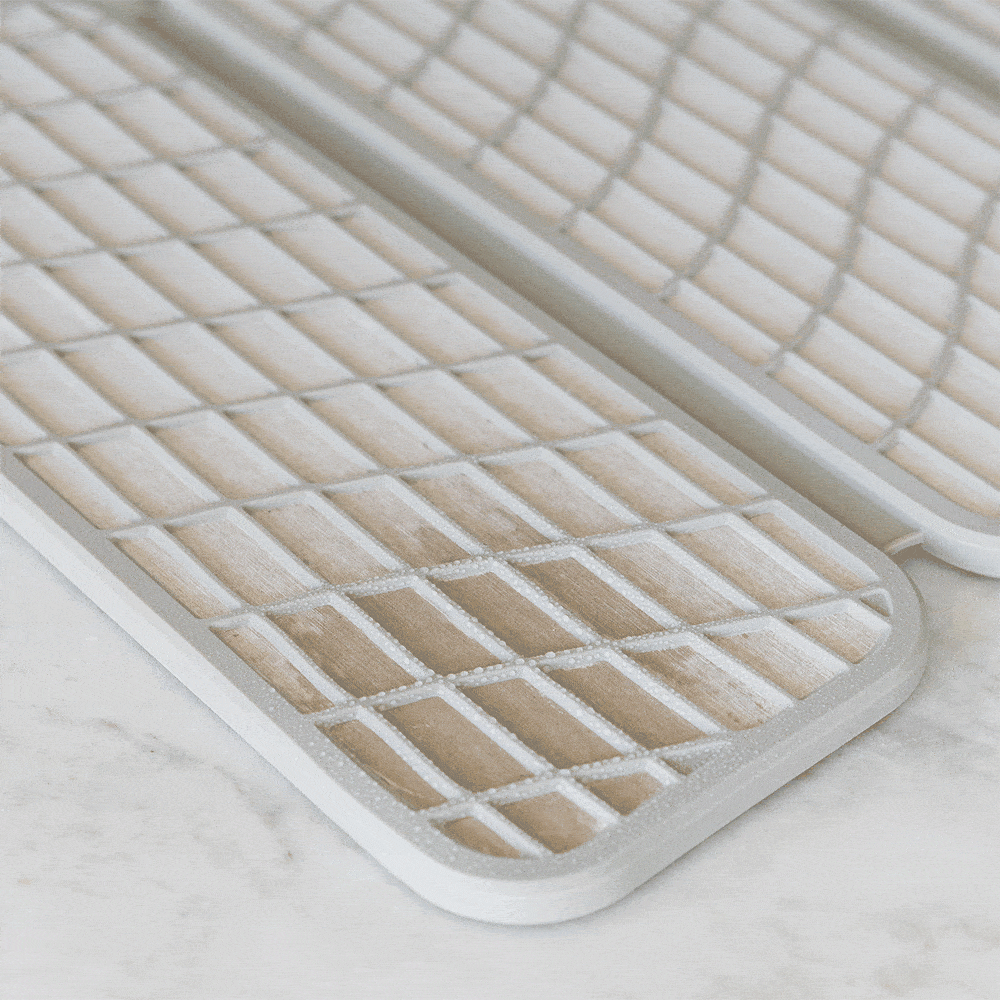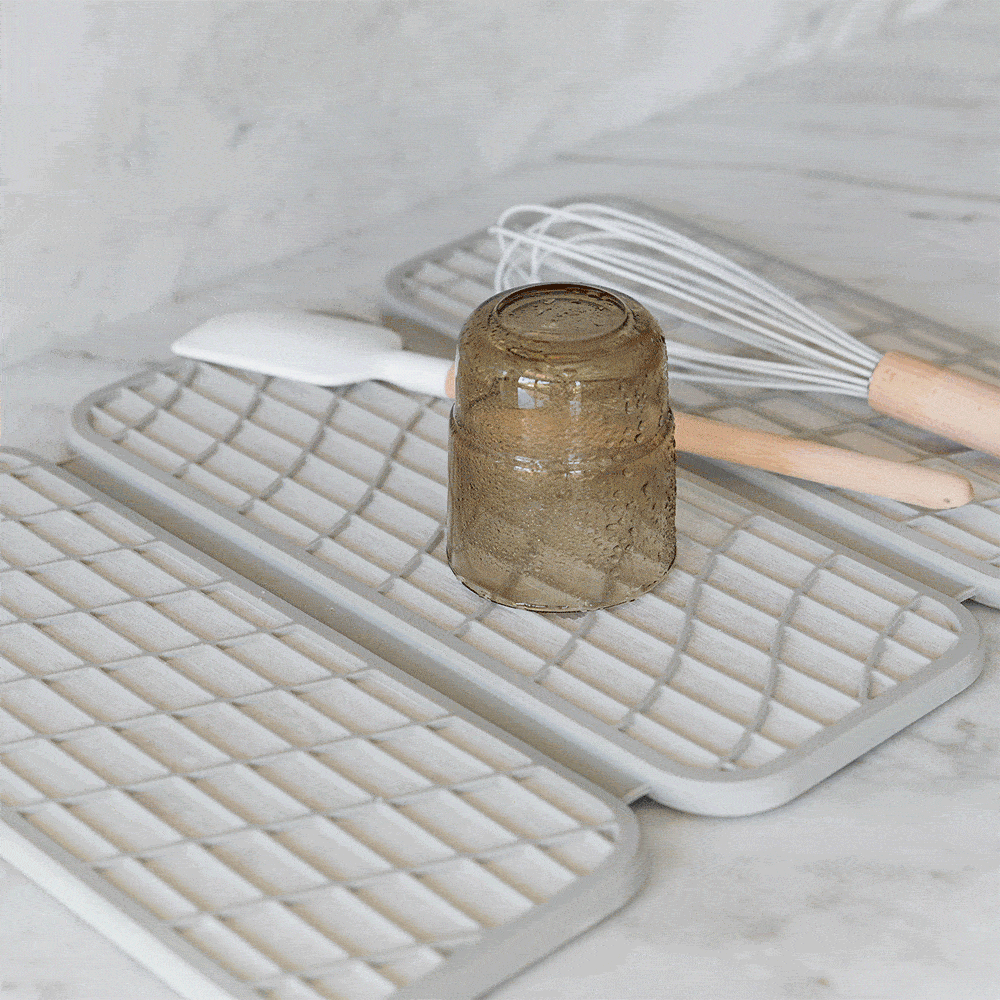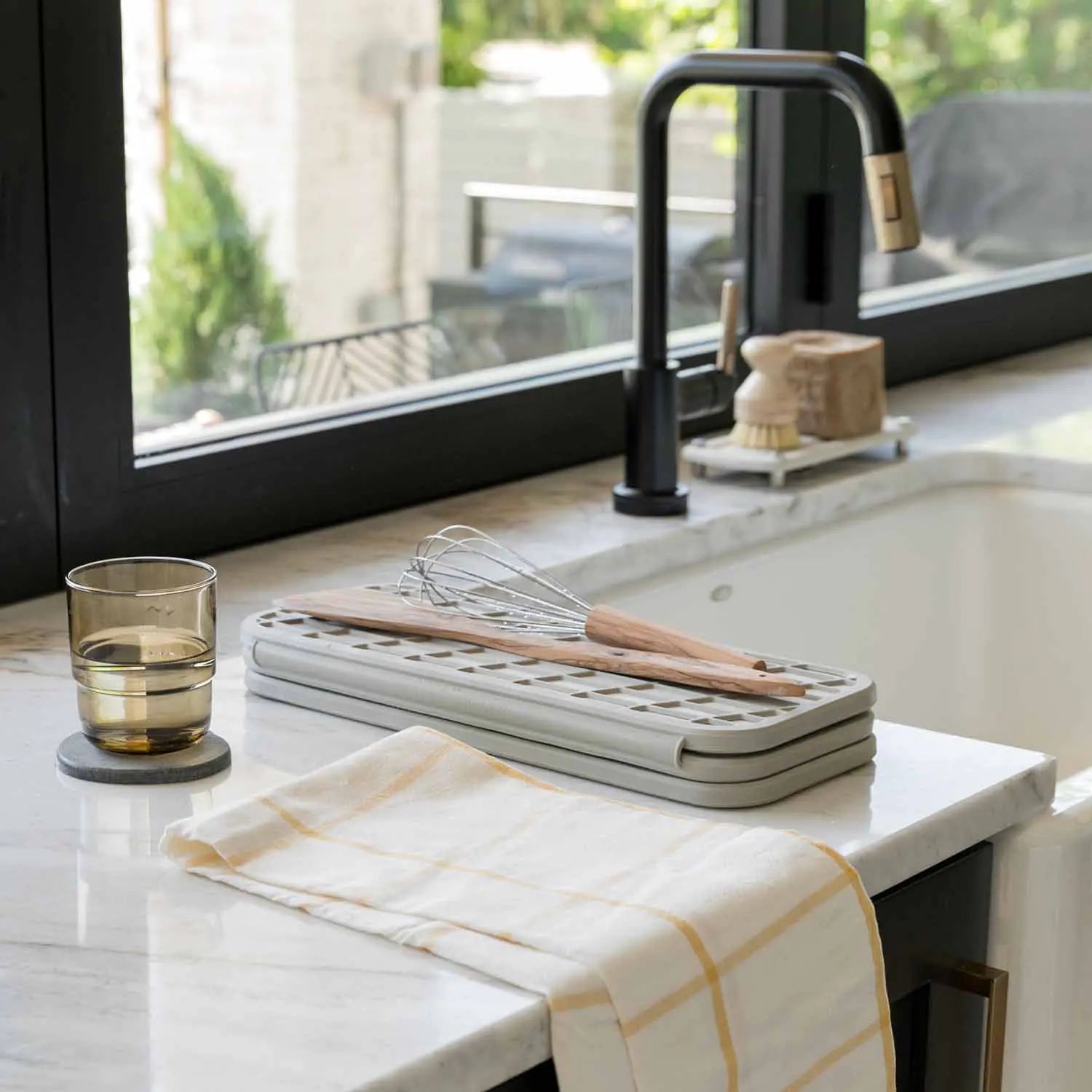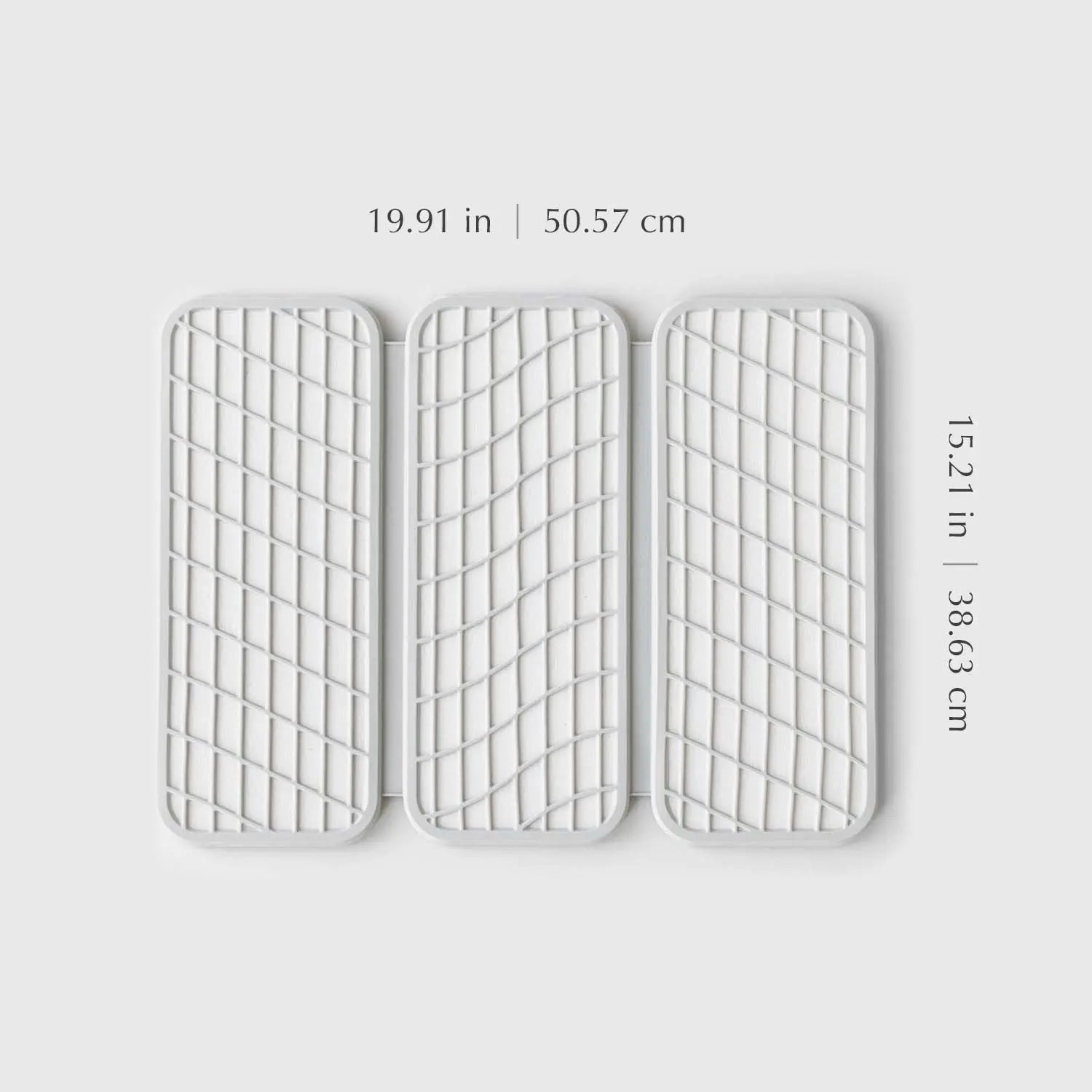 Sick of mildewed dish towels? Meet the Dish Pad. It's the minimal, collapsible kitchen drying mat that dries instantly, preventing mold, mildew, and bacteria--all while keeping your countertops looking fresh and modern. It's great for all drying jobs, from dishes to produce.

Dimensions: Length: 19.91 in // 50.57 cm, Width 15.21 in // 38.63 cm, Height: .52 in // 1.32 cm 
Dries instantly, helping prevent mold and mildew
Encased in woven mesh silicone to protect your dishes
Folds down for easy storage
Helps prevent bacteria growth by eliminating the moist environment where mold thrives
FDA-tested and food safe
Sustainable material made from compressed diatomaceous earth and recycled paper
Length: 19.91" Width: 15.21" Height: 0.52"
Frequently Bought Together
Meet the Modern Dish Pad
Mildew--no more! The Dish Pad is minimal, collapsible, and encased in woven silicone. Best of all, this countertop drying mat helps prevent mold and mildew.
This changes doing dishes.
This product helps you do the dishes RIGHT. Fast drying. No mold. No smell. Makes it easy. GREAT PRODUCT.
Re-ordered
I re-ordered additional dish pads since I was very pleased with my first order.
Dish pad
Nice pad, good customer service
Dish pad work as advertised
Rhe dish drying pads are awesome rhey are much better then a cloth dries as it is less messier and stays clean. It would be even better id the pad could come in a little bigger sizes. Single dish pad is little small and 2 of them makes it too big, something in between woild be ideal.
Decent not great
The dish pad is beautiful looking! Which is notable. I don't love the silicone but c'est la vie. Unfortunately the light color inevitably ends up stained and in general the dish mat isn't as versatile as an old school fabric version. I wish the three panel version was actually cut and separate panels instead of how it is. Idk. Imo could be better didn't change my life how I wanted it to
In the event that your mat gets stained, it can be cleaned in two ways. For light stains or scuffs, use the included sand paper to gently rub off any marks. We recommend doing this in a well ventilated area. For more extreme stains, small amounts of bleach or hydrogen peroxide will do the trick. You can view our full Care and Cleaning guide here.
We offer FREE product replacements for:
Bowed or warped products within 1 year of purchasing,
Product Cracks or Molds within 90 days of purchasing,
Product Cracks or Molds over 91 days - 1 year of purchasing *Shipping paid by the customer*
50% Off Full-Price Replacement Purchase
Product Cracks or Molds after 1 year - 18 months of purchasing.
20% Off Full-Price Replacement Purchase
Product Cracks or Molds after 18 months of purchasing.
Rust-free replacement up to 1 Year after purchase.