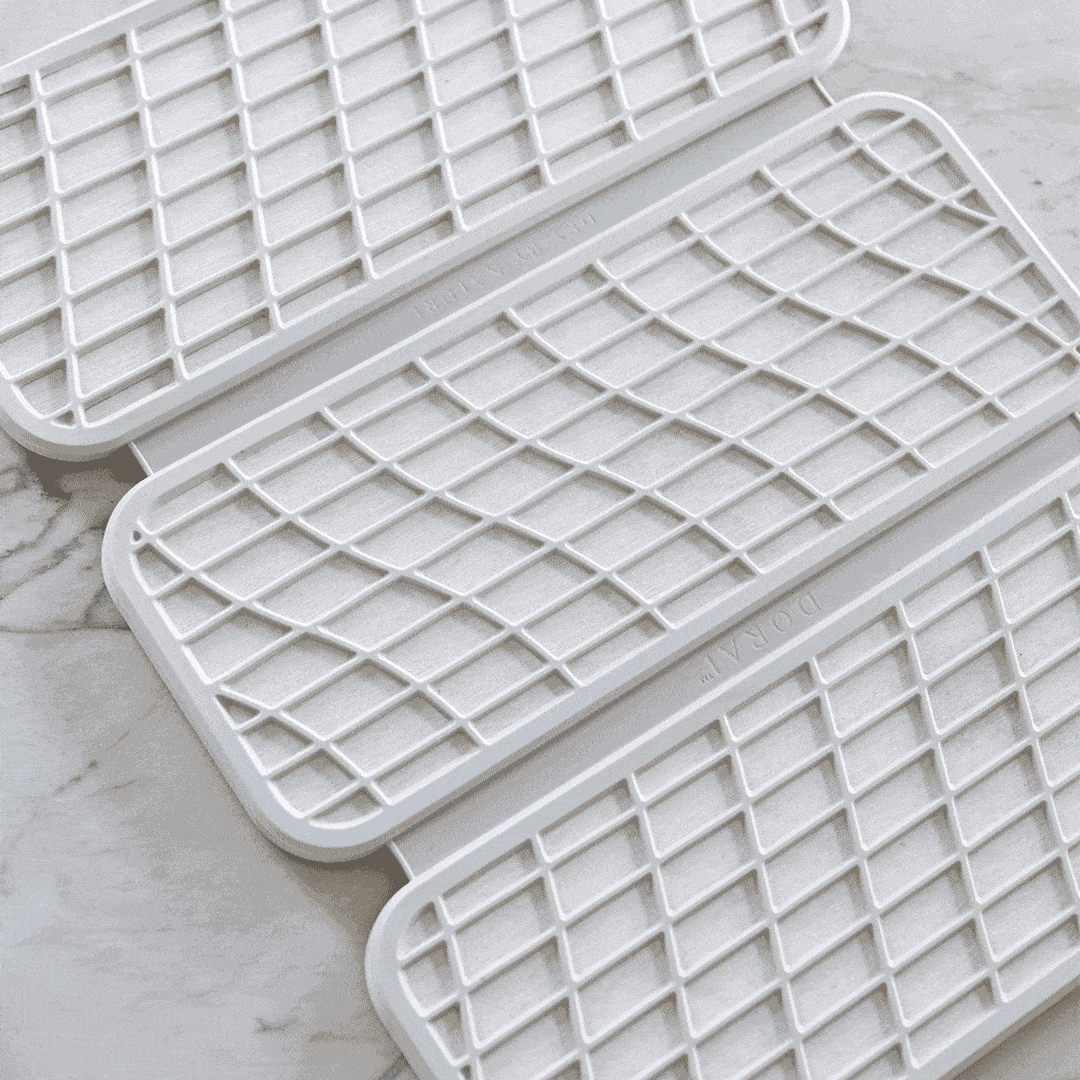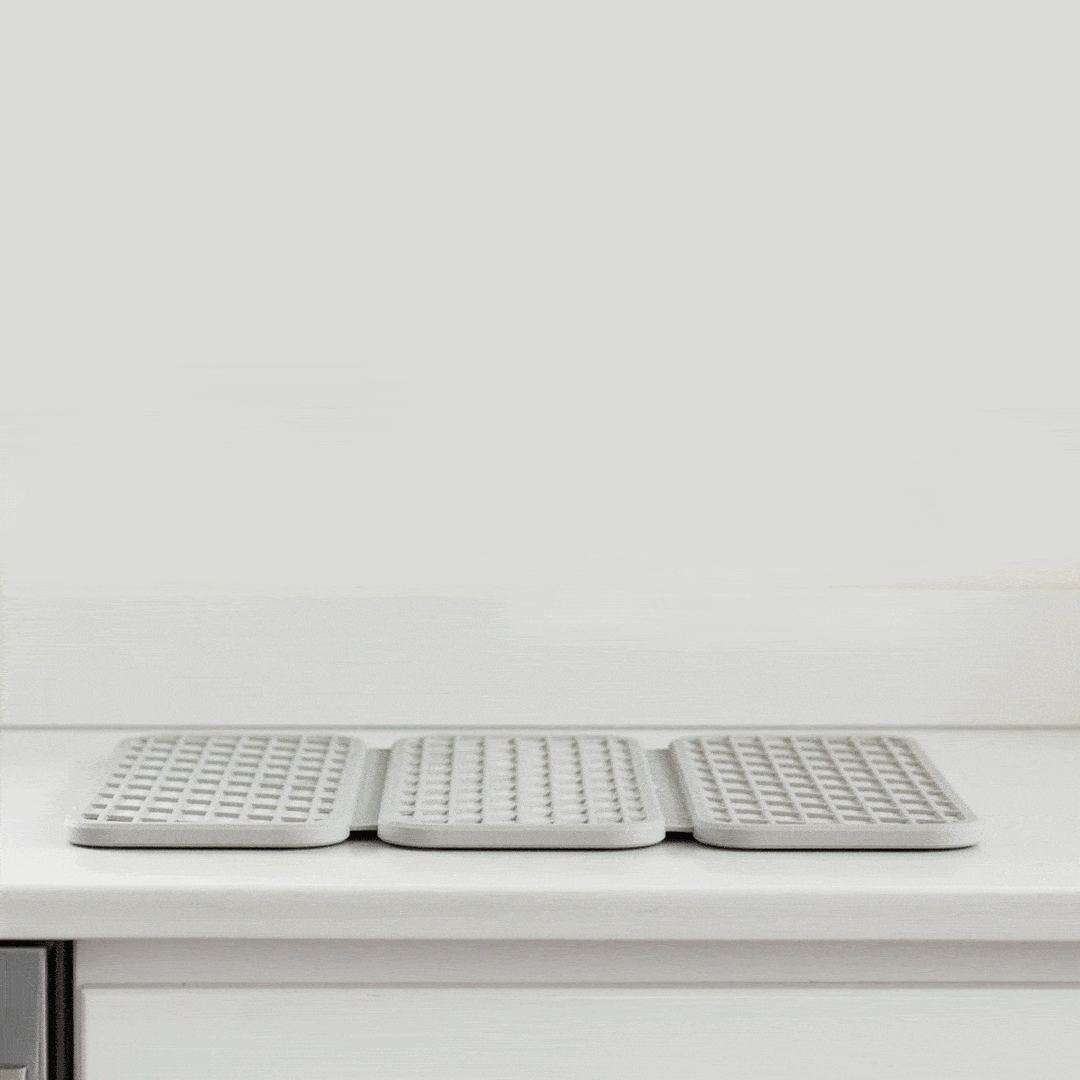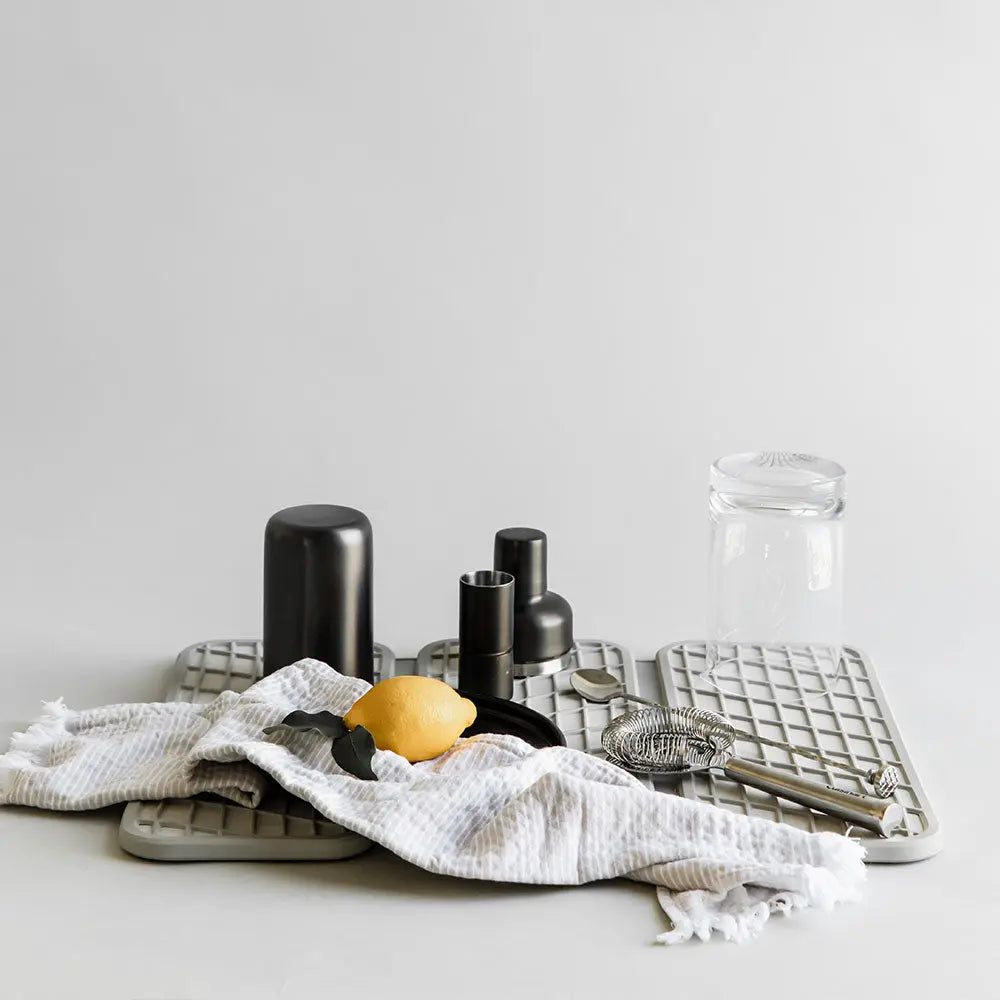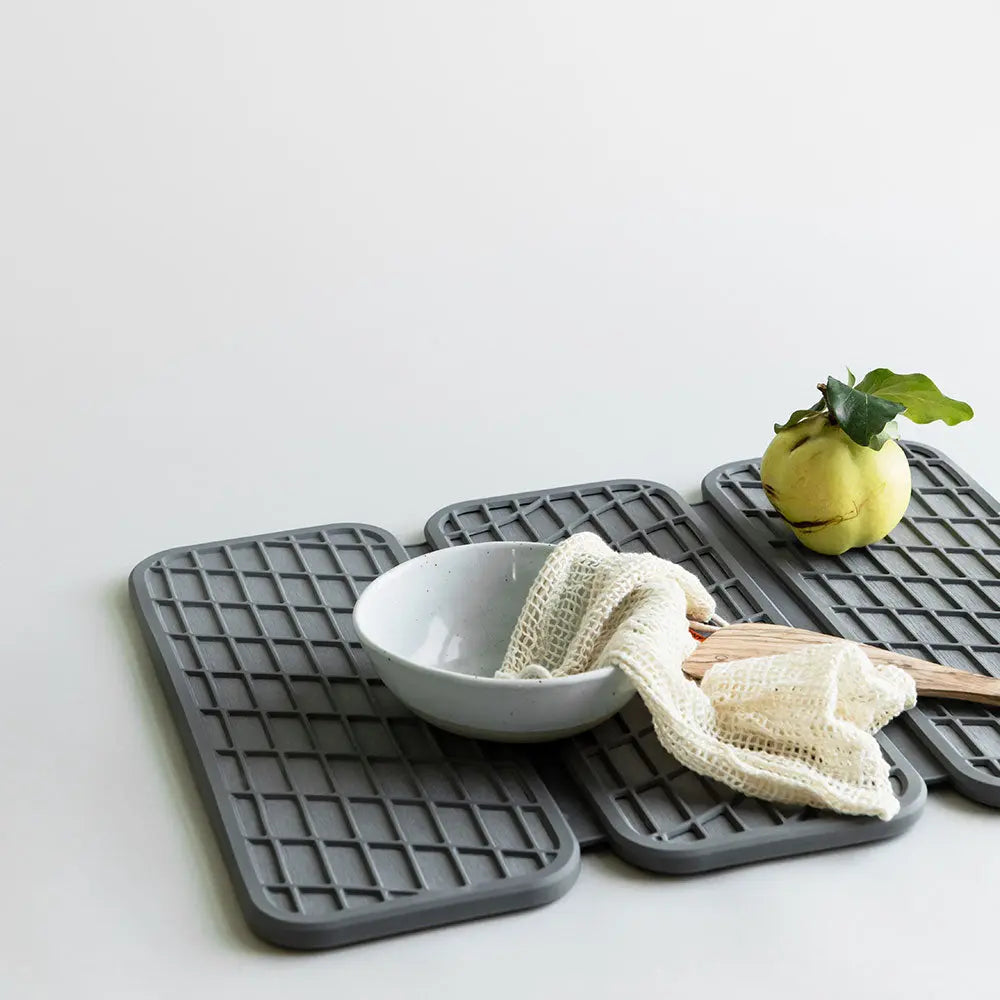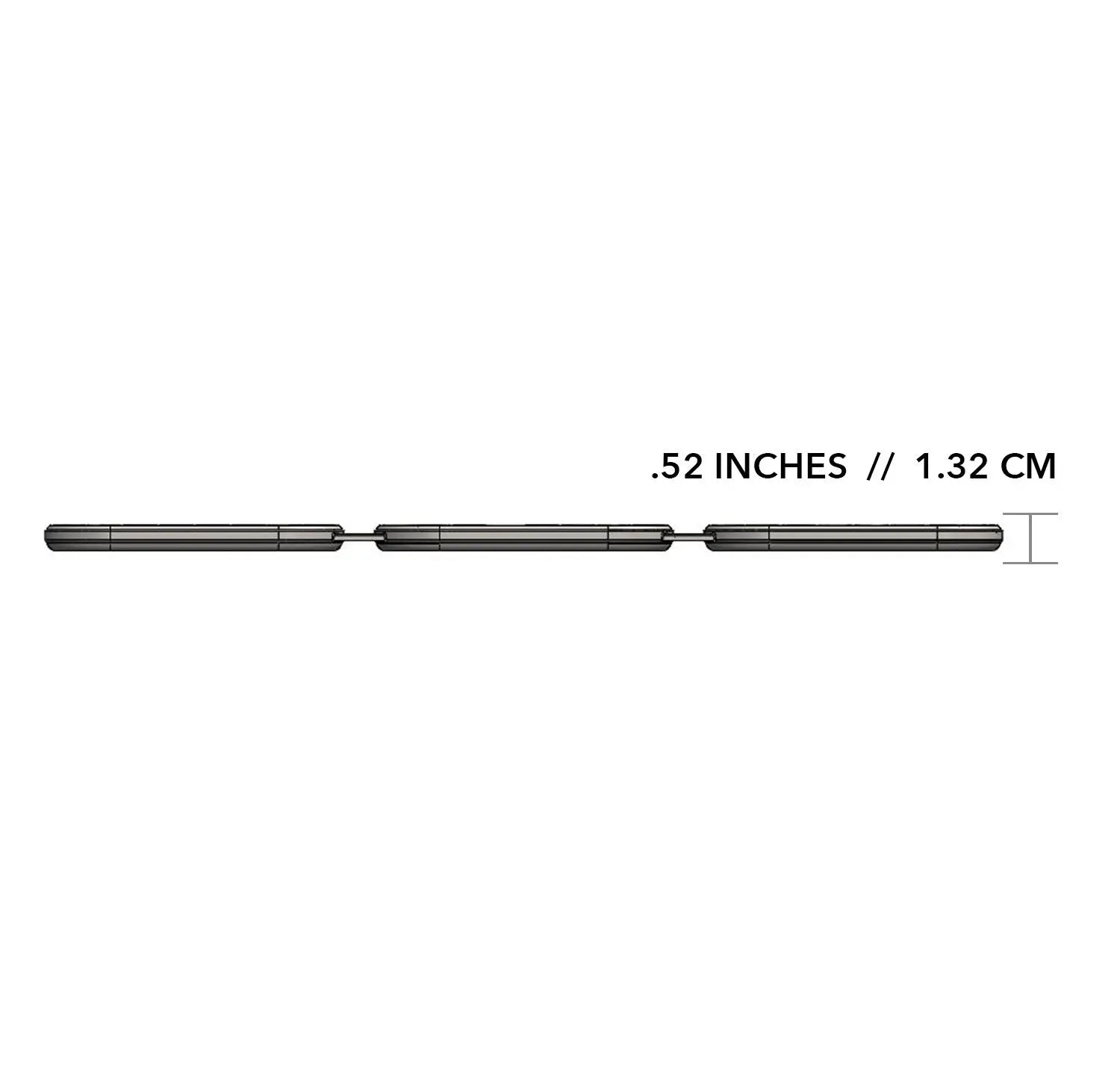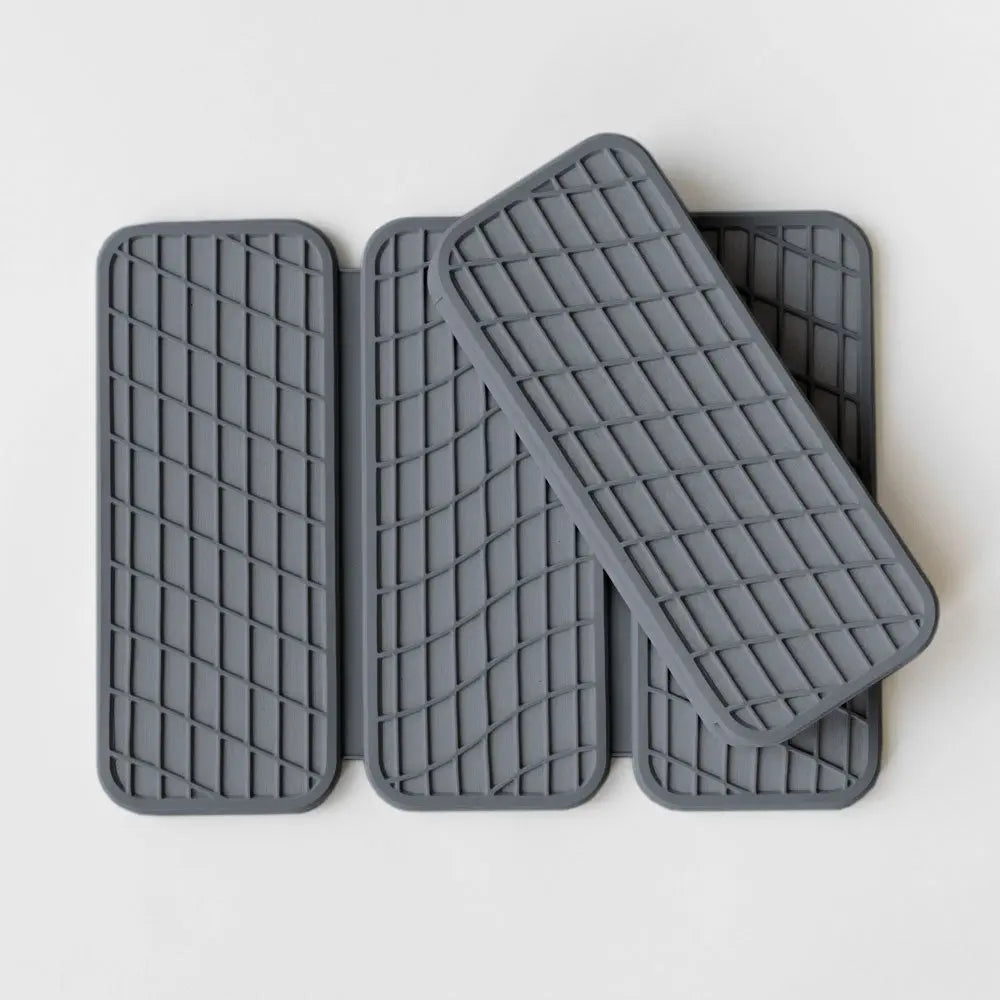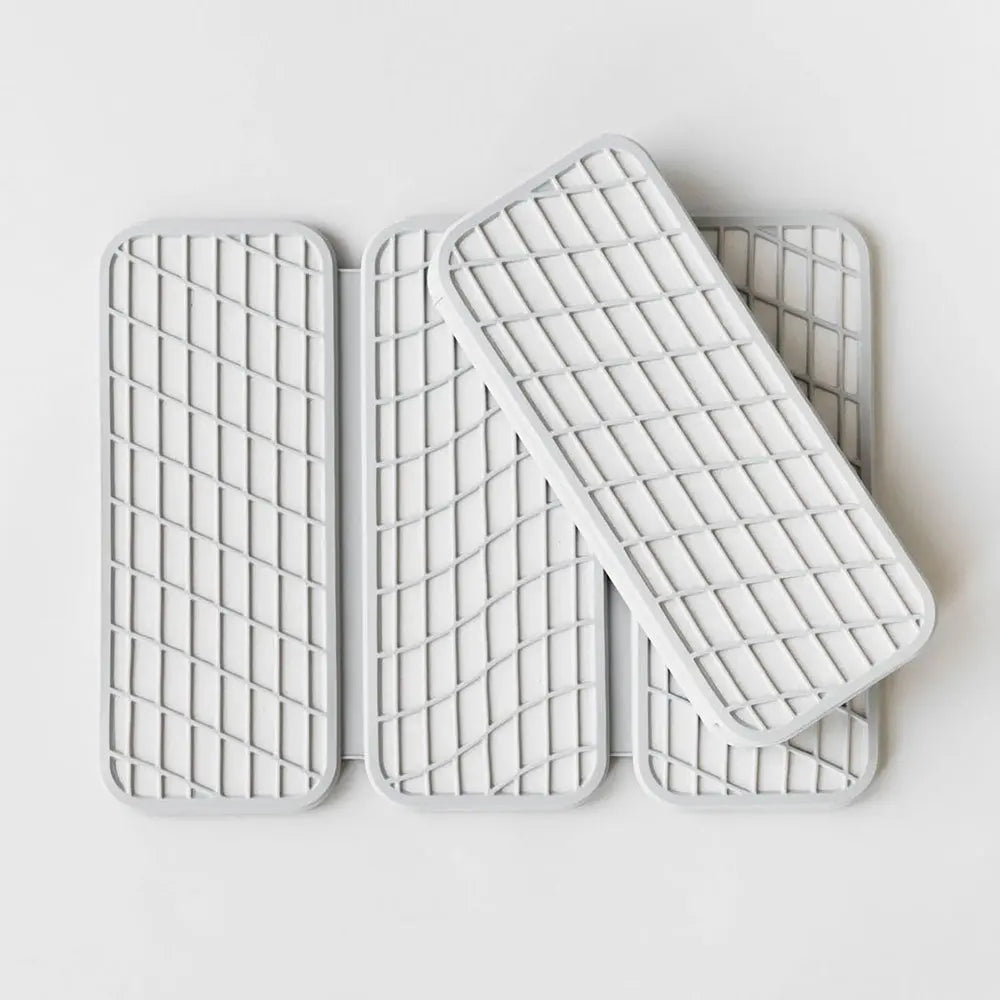 $155.00
$180.00
Sale

• Save
Sick of mildewed dish towels? Meet the Dish Pad, now available in a 2-pack for kitchens that need extra drying space. 

Collapsible, minimal, and instant-drying, this kitchen mat helps prevent mold, mildew, and bacteria. The pad is encased in woven mesh silicone to protect your dishes and keep your countertops looking fresh and modern. 

Great for all types of drying jobs from dishes to produce. Folds down for smaller items and easy storage when not in use.

Dimensions: Length: 19.91 in // 50.57 cm, Width 15.21 in // 38.63 cm, Height: .52 in // 1.32 cm 

Dries instantly, helping prevent mold and mildew
Encased in woven mesh silicone to protect your dishes
Folds down for easy storage
Helps prevent bacteria growth by eliminating the moist environment where mold thrives
FDA-tested and food safe
Sustainable material made from compressed diatomaceous earth and recycled paper
Length: 19.91" Width: 15.21" Height: 0.52"
Frequently Bought Together
Meet the Modern Dish Pad
Mildew--no more! The Dish Pad is minimal, collapsible, and encased in woven silicone. Best of all, this countertop drying mat helps prevent mold and mildew.
Loving this product!
Works great and fits right into my kitchen.
Worth Every Penny
I definitely had some hesitation buying something like a dish pad for so much money -- but it's so worth it. I'm tired of buying cheap crap from Amazon that's made of plastic and is thrown out after a year. These straight up ELEVATE the vibe in your kitchen. It's borderline enjoyable to do dishes now, for real. There's something really satisfying about knowing that the diatomaceous earth is over there absorbing water and helping it evaporate faster. Ultimately, I'm sure I'd have spent the same amount of money buying 10 cheap plastic dish racks over the next 10 years as I've spent on one of these -- that's a win for me, for small business, and for the planet.
Love these dish pads
These are great!! I bought them to replace the regular countertop dish pads that I had. I bought 2, cleared the counter to the right of my sink and have them both laid out. I rarely have an issue with puddling on the stones themselves. The only thing that is bad is the rubber piece between the stones has a tendency to collect water. I just make sure I wipe those pieces out. They are soft rubber and they definitely stay where you put them so there is no worry about them moving. Definitely recommend if you hand wash and air dry dishes.
Dorai Dish Pad really does dry quickly
I am impressed with the dish pad. It does dry quickly and I am not worried about bacterial growth or having to wipe it down. I do recommend it highly.
Unique and useful
These products are well made. I appreciate the inventiveness of the developers and use of materials that consider the environment.
In the event that your mat gets stained, it can be cleaned in two ways. For light stains or scuffs, use the included sand paper to gently rub off any marks. We recommend doing this in a well ventilated area. For more extreme stains, small amounts of bleach or hydrogen peroxide will do the trick. You can view our full Care and Cleaning guide here.
We offer FREE product replacements for:
Bowed or warped products within 1 year of purchasing,
Product Cracks or Molds within 90 days of purchasing,
Product Cracks or Molds over 91 days - 1 year of purchasing *Shipping paid by the customer*
50% Off Full-Price Replacement Purchase
Product Cracks or Molds after 1 year - 18 months of purchasing.
20% Off Full-Price Replacement Purchase
Product Cracks or Molds after 18 months of purchasing.
Rust-free replacement up to 1 Year after purchase.