★ ★ ★ ★ ★
"We love our Motorhome, and have learned every inch of space counts, and we have few products, so they must be the best. Our Dorai Dish Pad fits perfectly, dries immediately, and folds and stores away. Perfection!"
- D.B.
★ ★ ★ ★ ★
"We have a big sheepdog who drips water all over so the base was a big seller for us - self drying - no mold. Our sheepdog also likes to throw her bowls so I was concerned she may break them but they have stood up to all her shenanigans."
- E.F.
Dorai Bath Mat
4 Seconds to Dry
Average Bath Mat
12 Hours of Moisture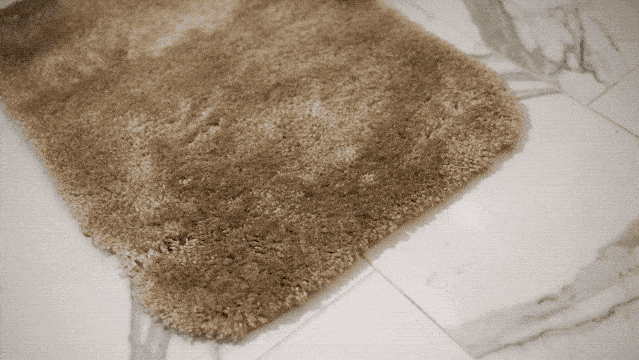 FAQs & Support
Great question! Dorai is pronounced DOR - eye. From the Japanese word for dry, it symbolizes a natural, moisture-free home.
Diatomaceous earth, or grass of the sea, is a naturally occurring mineral that is made from the fossilized remains of tiny aquatic organisms.
Diatomaceous Earth is antimicrobial by its physical properties not through the use of any chemicals or toxins. In its raw state, the material attracts and binds bacteria and parasites, causing them to dry out and die.
When compressed into boards it still rapidly evaporates to help prevent mold but doesn't hold the same antimicrobial properties as the raw material.
Unlike many bath mats or dish racks, the Dorai Diomat utilizes rapid drying that dissipates moisture and helps to prevent mold. However mold is a pesky invader, while Dorai's Diomat can hold up to 150% of its weight in water, it needs adequate airflow to rapidly dry. If your Dorai products are constantly saturated and not able to properly dry out, they can eventually grow mold (at a much slower rate than traditional products). To prevent this be sure your products are slightly elevated from the surface (by using the non-slip pad included in the Bath Stone), and let them fully dry out between uses. When overly saturated, prop them up against a wall and when they return to their original light color, they are ready to go.
Similar to light-colored towels or sheets, darker liquids or self-tanners can cause some staining if absorbed into the mat. Lighter liquids will not typically stain your mat. In the event that your mat gets stained, it can be cleaned in two ways. For light stains or scuffs, use the included sandpaper to gently rub off any marks. We recommend doing this in a well ventilated area. For more extreme stains, small amounts of bleach or hydrogen peroxide will do the trick.
Glad you asked, we hope this is the last bath mat you ever need to buy. You can find the care instructions enclosed in your packaging and in our FAQs. 
Dorai Bath Stones are meant to be durable, but on rare occasions, they can break with enough force or weight. To prevent this we advise always having the foam pad in place between the floor and the mat.
We elect not to add dyes or additional substances to the Diatomaceous Earth compound and instead embrace the natural color. Given the lighter tone of the material, there is a risk of staining with dirt or darker liquids. If you spill on it, first, try to dab up any excess liquid before it's absorbed. For mild stains or scuffs, get your product damp and use sandpaper (150 grit or similar) to gently 'wet sand' off any marks. We recommend doing this in a well ventilated area. For more extreme stains, applying small amounts of diluted bleach or hydrogen peroxide should do the trick.