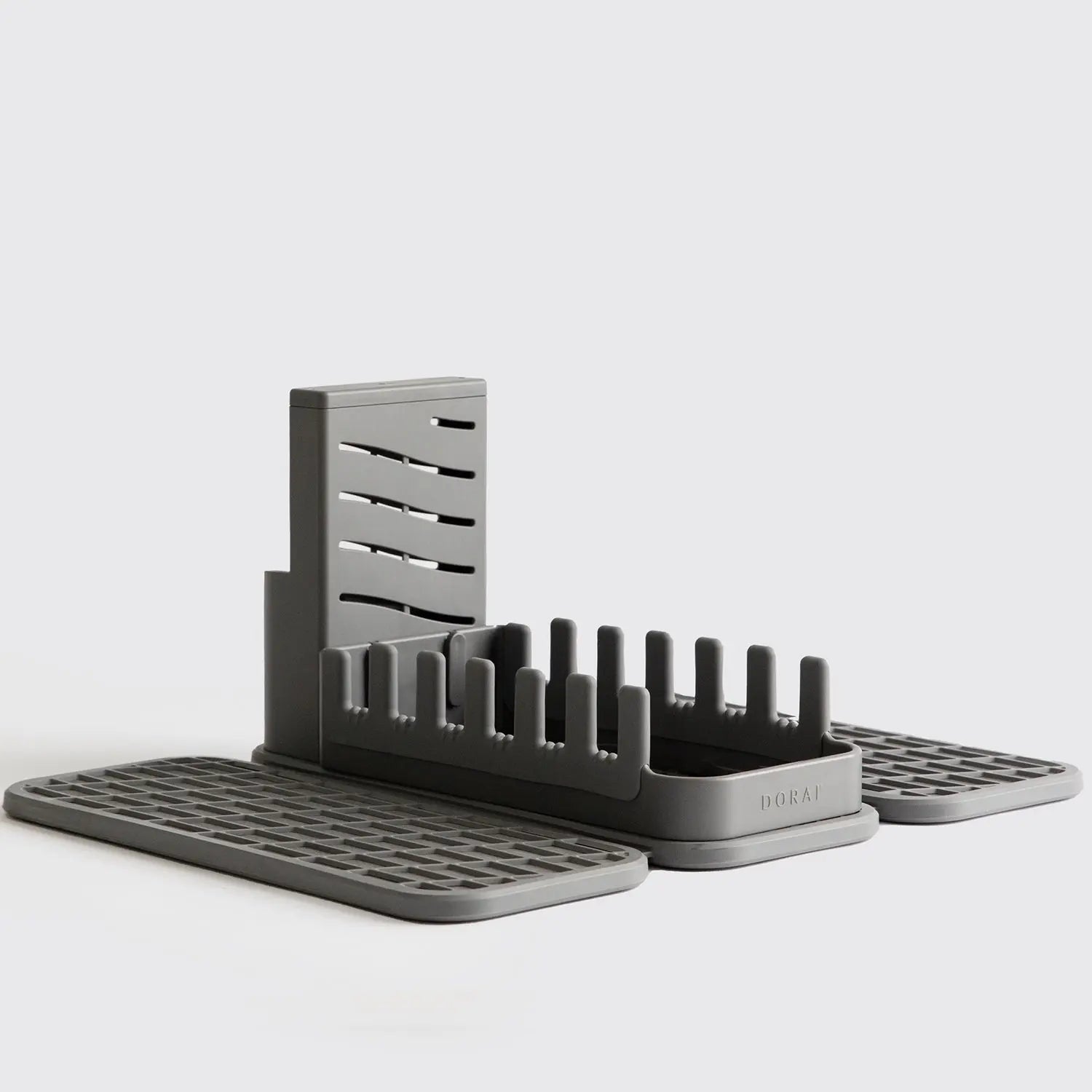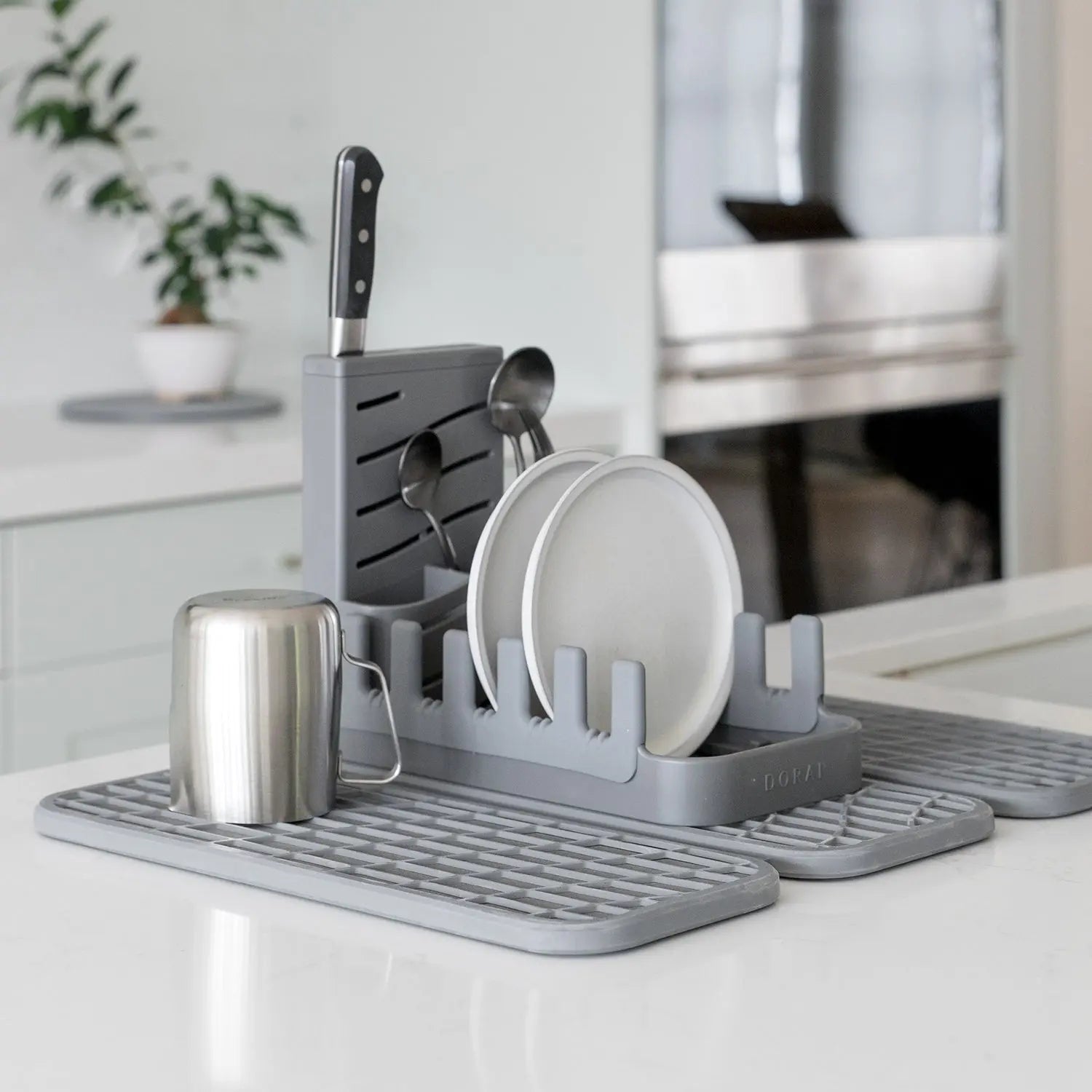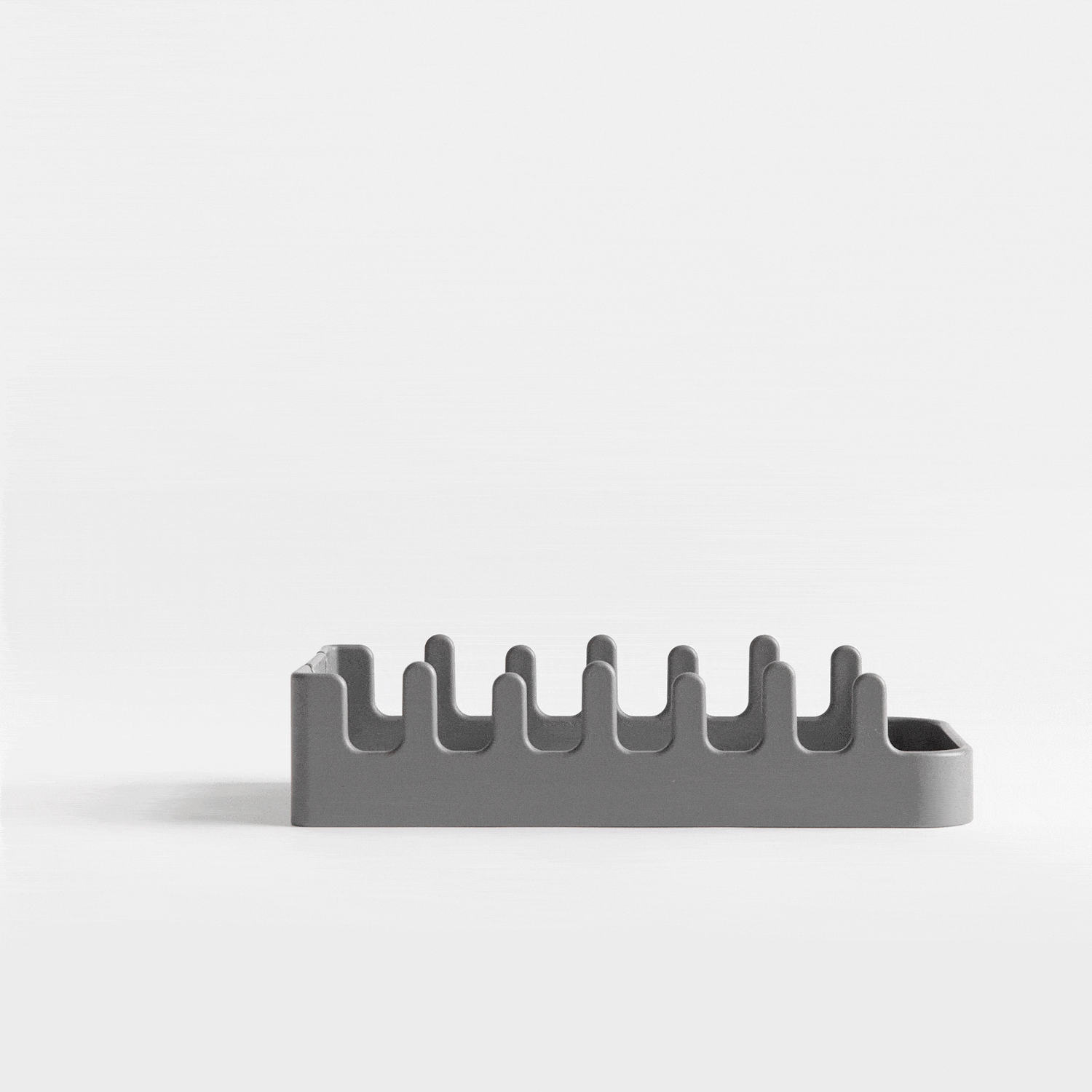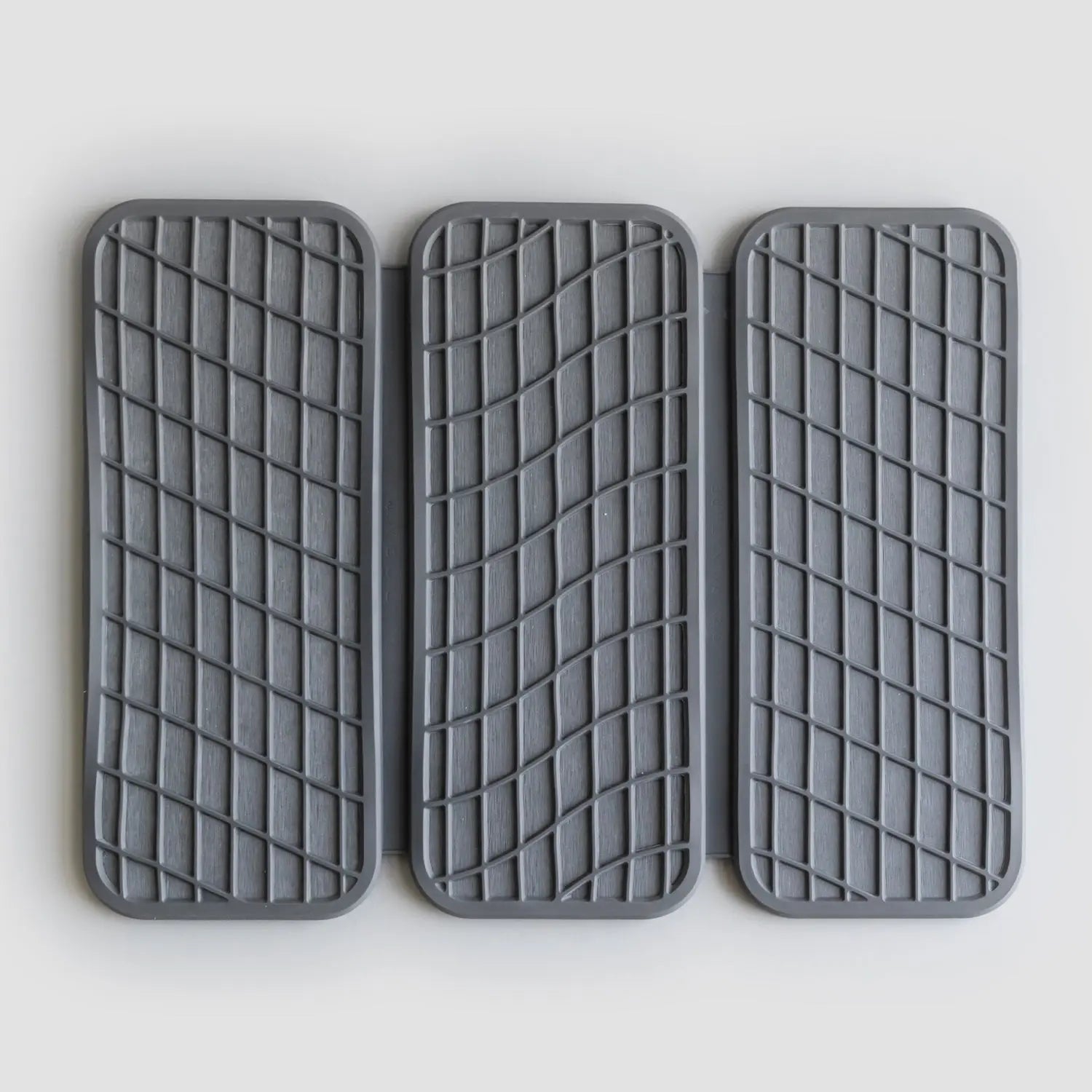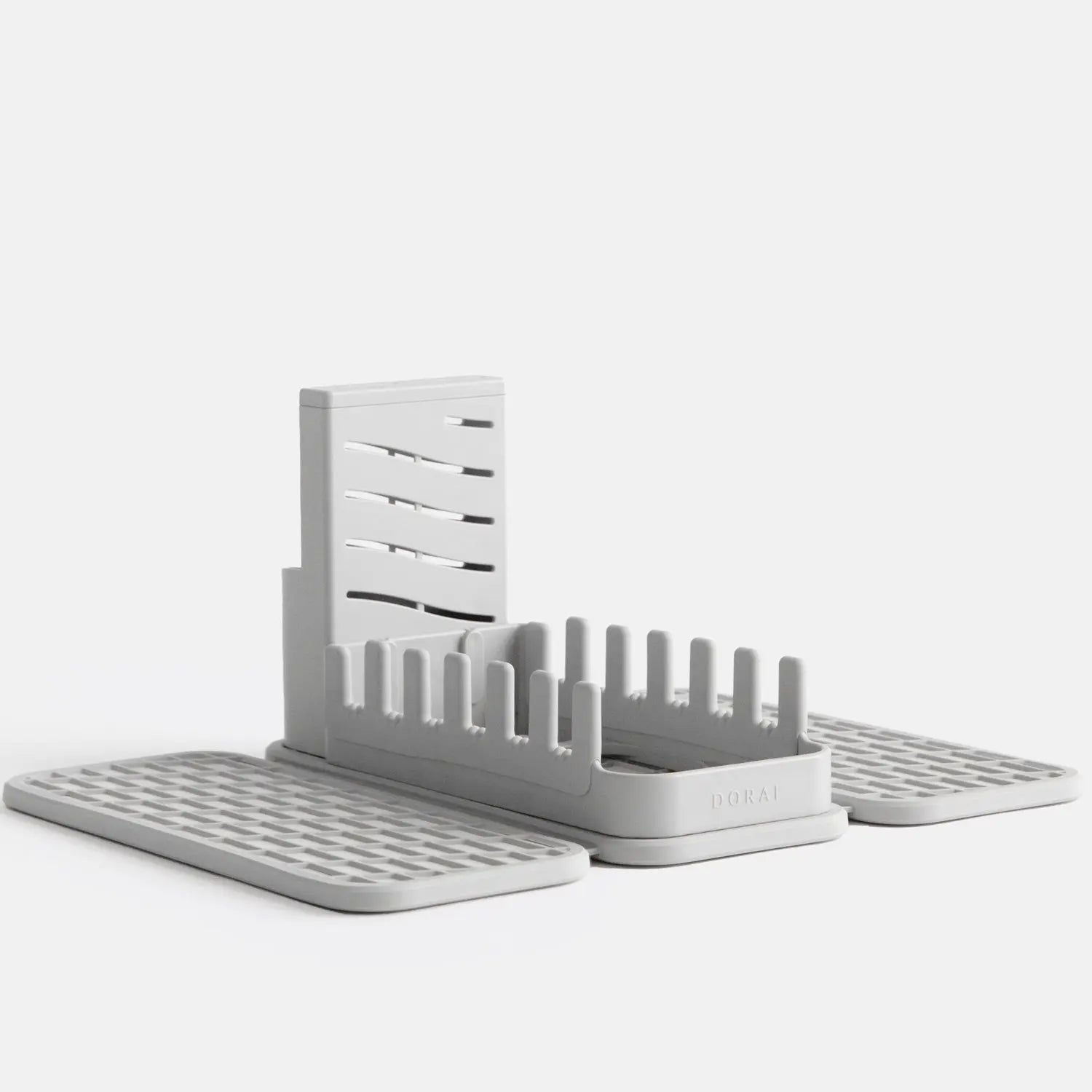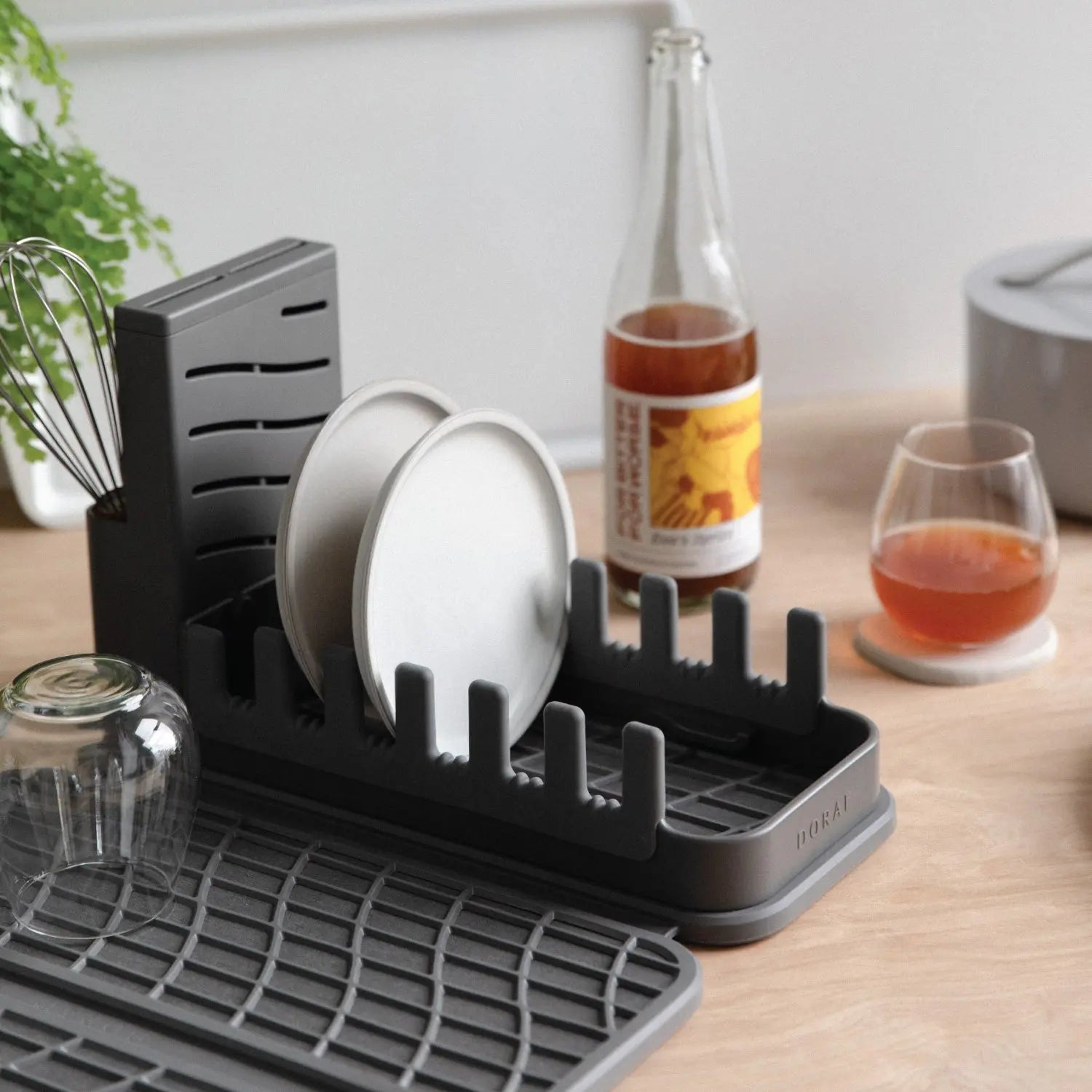 $120.00
$138.00
Sale

• Save
The Dish Pad and Rack bundle is the functional, modern duo for your kitchen.

Collapsible, minimal, and instant-drying, the Dish Pad helps prevent mold, mildew, and bacteria. Rest the Dish Pad Rack on the different sections of your Dish Pad and arrange it to fit your needs. This duo is designed to keep your counters organized and dry.
Dish Pad Rack Dimensions: Length: 14.75 in // 37.46 cm, Width: 5.75 in // 14.60 cm, Height: 8.38 in // 21.29 cm 
Distance Between Slots: .75 in // 1.9 cm
Dish Pad Dimensions: Length: 19.91 in // 50.57 cm, Width 15.21 in // 38.63 cm, Height: .52 in // 1.32 cm 
Dish Pad:
Dries instantly, helping prevent mold and mildew
Encased in woven mesh silicone to protect your dishes
Folds down for easy storage
Helps prevent bacteria growth by eliminating the moist environment where mold thrives
FDA-tested and food safe
Sustainable material made from compressed diatomaceous earth and recycled paper
Dish Pad Rack:
6 slots for drying plates and lids upright
2 knife slots
Utensil holder
BPA free and FDA food safe tested
Dishwasher safe
Folds down for easy storage when not in use
Dish Pad Rack
Length: 14.75" Width: 5.75" Height: 8.38"
Distance Between Slots: 0.75"


Dish Pad
Length: 19.91" Width: 15.21" Height: 0.52"
Meet Your Functional Kitchen Duo
The Dish Pad and Rack Bundle is designed to enhance your drying space and keep your counters organized.
In between
The product would be much improved without the plastic in between the folds. It holds water which is in conflict with the products mission
Dish rack and mat and customer support exceeded expectations
I coveted this when I first saw it, but was ambivalent about pulling the trigger due to the cost. Then I over bought - I purchased both the dish rack/mat AND the dog mat and bowl but had buyer's remorse - products are unreturnable and I worried, what if this didn't meet expectations? That put customer support to the test, and they were fabulous - they modified my order so I'd just get the dish mat/rack, and they also helped resolve a delivery issue. Finally, … drumroll please … I got the package and boy, it's just perfect.
The rack seemed like it might have been too small but turns out, I don't need all that much of that kind of space every day. I didn't realize the rack had knife slots on top - that's brilliant! It's protective of knives and hands. And I also didn't realize how often I didn't need a full sized mat. I'm regularly folding the mat into thirds and using it just under the rack. And, this is all besides the touted benefits of a mat dries quickly so there's no more ick, and the fact that it matches the clean, neutral beauty of the rest of my simple but clean, neutral beautiful kitchen and home.
All in all, the item and the experience exceeded expectations (and I'd add that it's packaged in as compact and protective packaging possible, which I also appreciated).
Love it!
This is so much better than anything I've had in the past, and it looks GREAT.
Love love love
Love all of the Dorai products. The bath mats, the drying rack are so aesthetically pleasing and functional! Totally worth the money.
In the event that your mat gets stained, it can be cleaned in two ways. For light stains or scuffs, use the included sand paper to gently rub off any marks. We recommend doing this in a well ventilated area. For more extreme stains, small amounts of bleach or hydrogen peroxide will do the trick. You can view our full Care and Cleaning guide here.
We offer FREE product replacements for:
Bowed or warped products within 1 year of purchasing,
Product Cracks or Molds within 90 days of purchasing,
Product Cracks or Molds over 91 days - 1 year of purchasing *Shipping paid by the customer*
50% Off Full-Price Replacement Purchase
Product Cracks or Molds after 1 year - 18 months of purchasing.
20% Off Full-Price Replacement Purchase
Product Cracks or Molds after 18 months of purchasing.
Rust-free replacement up to 1 Year after purchase.